Are you taking the right diet, lifting weights to build your muscles but not getting the desired results? Then it's time to add supplements to boost your muscle gains. In this article, we are going to cover the best supplements for muscle growth.
Nowadays, there are so many supplements for muscle growth available, but choosing the right one is the key. Muscle supplements are the best way to provide nutrients essential for their growth and a strict exercise routine.
Here's everything you need to know about the 12 best supplements for muscle growth to get the physique you want!
Whey Protein
Whey protein is one of the best muscle-building supplements for all the good reasons it holds. It has a high amount of amino acids and proteins that are important for stimulating protein formation. Plus, whey protein contains peptides that improve blood flow to the muscles.
It digests and gets easily absorbed in the blood with a high level of branched-chain amino acids (BCAA). More specifically, the product has 24g of protein, 3g of carbs, 1g of fat, and amino acids for every spoon. 
Therefore, it is advisable to consume it right after a workout as amino acids help you recover. Further, it comes in different flavors like double rich chocolate, cake butter, banana cream, and rocky road.
How to Use Whey Protein?
Add Whey protein powder with 8-10 ounces of water, milk, or any of your favorite beverages. The best time for it to take is after work out. For post-workout supplements for muscle gain, take one serving of 30 grams 30 to 60 minutes before workout.
If you weigh less than 150 pounds and take two servings if you weigh more than 180 pounds. However, if you want to take it before working out, take one serving 30 to 60 minutes as muscle-building supplements.
Pros
Builds muscles
Available in different flavors
Mixable to avoid lumps
Comes in different sizes
Cons
May have a chemical smell
Casein Protein Powder
Casein protein powder makes the best supplement for muscle gain for bedtime due to its slow metabolism rate. Unlike the whey that causes rapid digestion when consumed, it takes time to digest, slowly releasing amino acids in the blood. 
Therefore it is recommended to take it before you sleep. This supplement for muscle is rich in amino acids and has good taste making it convenient to consume. It works by releasing the amino acids gradually, which helps in the muscles' recovery.
The best casein powder should be natural ingredients and does not contain any impurities. It should have 29 grams of protein for 100 calories per serving and no sugar. It is recommended to take whey and protein shakes blended together to maximize the impact.
How to Use Casein Protein Powder?
Take 8-10 ounces of casein powder and mix it with any beverage like water milk of your choice. Make sure to buy the one that contains micellar protein and take it right before going to bed. If you take it after the workout, add 10-20 grams of casein to your whey protein to have more impact.
Pros
Does not contain any additives
Little quantity of carbs and fats
Digests slowly
Tastes delicious
Plant Protein Powder
Veggies are not the best protein source, and many people prefer to take animal proteins. Therefore one can fulfill the deficiency by taking the plant protein powder.
It is one of the healthiest options to supplement your muscle growth. Among all the plant proteins, rice and pea proteins blend are the best to build muscle fast. They taste good and are enriched with essential nutrients like amino acids leucine, isoleucine, and valine, which strengthen the muscle.
Research has shown that rice and pea protein brings the same results as whey protein for building muscle.
How to Use Plant Protein Powder?
Take plant protein powder and mix it with 8-10 ounces of water, non-dairy, or beverage of your choice. If you like to consume it before the workout, take one serving of 40 grams 30 to 60 minutes before the workout. Post-workout, have one 40gram serving within 60 minutes of training if you have a weight less than 150 pounds and two servings if above 150 pounds.
Pros
Gluten free
Blends easily
Helps you lose cravings
Amazing taste
Citrulline Malate (L-Citrulline)
Citrulline Malate constitutes the amino acid (L-Citrulline) combined with malic acid, a naturally occurring substance in the fruits that produce cellular energy.
It works in the body and breaks down into another amino acid called L-arginine. When produced, it releases a gas known as nitric oxide that widens blood vessels and increases blood flow. Moreover, it enhances energy levels and relieves muscle soreness.
A study shows that those who took these supplements were better able to perform reps and experienced minor muscle soreness. It has also been shown to improve aerobic performance and increase ATP (Adenosine TriphosPhate) production, allowing training at higher intensities for a longer duration.
How to Use Citrulline Malate?
Add 4 to 10 grams of the supplement and mix it in 10 to 12 ounces of water. Take it 15 to 30 minutes before exercise to enjoy the results.
Pros
Gluten free
Improves blood flow
Relieves muscle soreness
Energy Booster
Cons
Can't be taken on an empty stomach
Creatine
Creatine comprises three amino acids, i.e. arginine, glycine, and methionine. It's one of the cheapest and most effective muscle supplements that boost ATP production and increases water retention. 
The supplement increases muscle size energy and improves body mass, and has been shown to improve performance in long-distance runners. Most importantly, it has been found to increase insulin-like growth factor (IGF-1) in muscles.
Regarding its composition, it contains tri-sodium, potassium which contacts the muscle while lifting weights. It also makes you feel hydrated during a workout and improves your fatigue tolerance. This supplement formulates proteins even on days you are not working out. So it is one of the best pre and post-workout supplements for muscle gain.
How to Use Creatine?
You should take 2-5 grams of creatine in any form like creatine monohydrate, creatine malate, creatine ethyl ester, create alpha-ketoglutarate (AKG). It is recommended to use it before workouts to maximize its effects. After post-workout, take another 2-5 grams along with 40-100 grams of fast-digesting carbs.
Pros
Easy to take
Guaranteed results
Improves body mass
Builds up the fatigue tolerance
Cons
Scoop size might be inaccurate
Beta-Alanine
Beta-Alanine is a naturally occurring substance that produces carnosine when combined with another amino acid. Increased levels of carnosine in muscle improve muscle strength and growth. Carnosine develops the muscle's ability to do high-intensity workouts for a longer time. One can take it in the natural sources through fish, meat, and poultry.
However, it is not enough to fulfill the requirements. Therefore, Beta-Alanine supplements are taken to produce carnosine to prevent lactic acid build-up. It reduces the amount of lactic acid released during workouts and provides energy.
It also breaks down glucose which acts as a fuel for working out. A study shows that those who consume beta-alanine muscle gain supplements and creatine lost more body fat and increased muscle mass compared to those who only took creatine.
How to Use Beta-Alanine?
It is essential to read the instructions mentioned that come with supplements. Generally, one should consume 2 to 5g of Beta-Alanine daily and 90 g of beta-alanine over 30 days.
Pros
Increases muscle strength and growth
Prevents lactic acid accumulation
Gluten free
3rd Party tested
HMB
Beta-hydroxy-beta-methyl butyrate, also known as HMB, naturally occurs in your body due to the breakdown of amino acid leucine. This muscle supplement works by decreasing protein breakdown and formulation of protein synthesis.
This, as a result, increases muscle strength and mass. Therefore, helping to recover from high-intensity workouts. Taking it as a supplement to build muscle increases the HMB level that benefits the muscles.
It helps as it prevents muscle decrease and enhances muscle strength to perform a workout for a longer period. Most HMB supplements contain 1000mg of HMB. Some come in a bottle having 90 capsules, each containing 100omg of HMB. It includes ingredients like silicon dioxide, rice flour, and gelatin.
How to Use HMB?
You should read the manual instructions to understand how to use them. Generally, the usual dose is 3 grams per day. So if each capsule contains 1000mg, you can fulfill the requirement by taking it three times a day.
Pros
Increases muscle strength
Protects muscle
Lean body mass retention
Contains patented ingredients
Cons
May give you allergic reaction
Branched Chain Amino Acids (BCAA)
BCAA includes three amino acids, i.e. leucine, valine, and isoleucine. They repair and increase the recovery process and reduce soreness. Moreover, it stimulates the synthesis of proteins which enhances muscle growth. They are effective for both pre-workout and post-workout.
When you consume it before the workout, it helps gain muscle mass rather than reduce it. If you take it after the workout, it provides the energy that your body needs to recover. You can take it through natural sources like meat, dairy products, and eggs, but they are not enough to cover your daily intake. 
How to Use BCAA?
Read the instructions for the BCAA supplements. It is recommended to take it 15 minutes before a workout. If you have PMD Sports BCAA, take one scoop and mix it in 400 ml of water 15 minutes before workout.
Pros
Easy to swallow
Reduces muscle soreness
Available in different sizes
Helps in muscle recovery
Nitric Oxide Boosters
Nitric oxide boosters don't give nitrogen oxide directly, but they contain the ingredients to produce it. They release nitric oxide due to the breakdown of amino acid arginine. This muscle repair supplement works by dilating the blood vessels, increasing the blood flow to the muscles.
In this way, there will be more oxygen, nutrients, anabolic hormones, and water reaching the cells. As a result, you will feel more energetic to do a workout and better recover after the training. Moreover, it reduces muscle soreness that appears after 72 hours of workout.
How to Use Nitric Oxide Boosters?
Take nitric oxide boosters at the following times, 
in the morning before breakfast

 30-60 minutes before the workout

immediately post-workout and 30-60 minutes before bedtime
It's advisable not to take it with food and combine it with 500-1000 mg of vitamin C, which causes its results to remain longer.
Pros
Improves sleep cycles
Works for chill hands and feet
Increase blood flow
Dilate blood vessels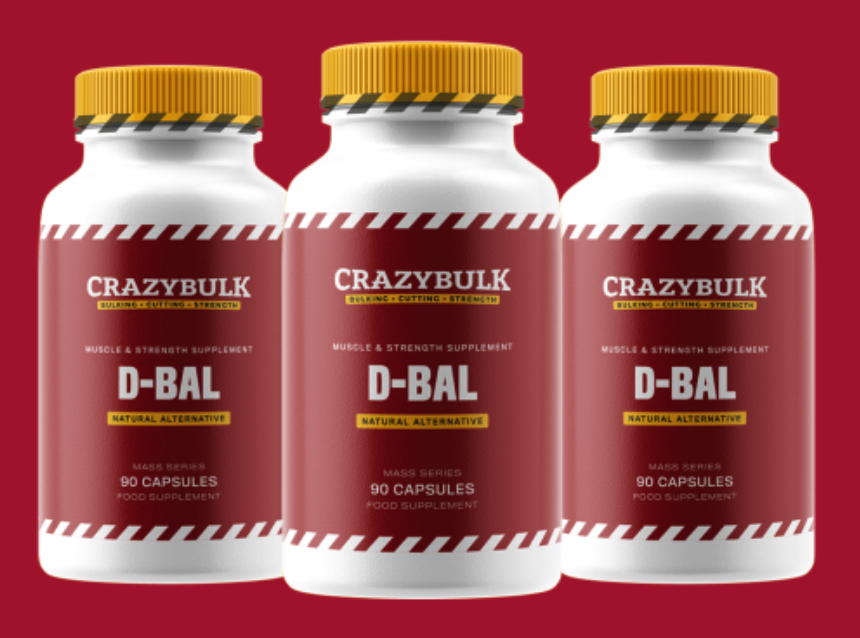 D-BAL
D-BAL is one of the best supplements for muscle mass that give the same benefits as anabolic steroids. It improves the circulation of the blood. Nutrients reach the muscles faster, repair tissue, and produce cells' energy. DBAL contains ingredients like MSM, L-Isoleucine, Vitamin D3, Magnesium, Ashwagandha, Tribulus Terrestris fruit, and Sodium Hyaluronate.
Hence you can lift weight and do workouts for longer periods. It works to increase protein synthesis in your muscles, which improves cell function and structure.
How to Use D-BAL
Whether you are working out or not, you should consume D-BAL supplements. Take three capsules half an hour after working out on your workout days. On rest days, take three capsules with your breakfast.
Every bottle contains 90 pills that can last for a month. Its results may take some time to show and vary from person to person. Therefore you should take it for two months to see the results.
Pros
Burns fats
Improves blood circulation
100% Pure & Natural
Enhances muscle growth
Cons
Side effects like hair loss
Bitter Orange Extract
Bitter orange extract is taken from bitter orange trees that grow in Asia. For many centuries, different trees have been used to treat different medical conditions, including obesity.
This product increases the metabolism rate, so it burns fat rapidly. As a result, it increases the energy to perform a workout for a longer period. This will lean your muscles and improve blood sugar regulation and glucose transport. 
There are different bitter orange extracts supplements available. One of its supplements, syneburn, contains ingredients like Magnesium Stearate, Advantra Z Bitter Orange Extract, Silicon Dioxide, and Microcrystalline Cellulose. It is readily available in bottle form capsules containing nearly 180 capsules.
How to Use Bitter Orange Extract?
Follow the instructions mentioned to use orange extract. For extract like Syneburn, take one capsule three times a day. Each bottle can last for a month. However, it's recommended to take it for two months to get the best results.
Pros
Improves metabolism rate
Treats medical conditions
Improves blood sugar level
Leans muscle mass
L- Glutamine Supplement
This supplement is considered a favorite of bodybuilders due to the numerous benefits it offers. First of all, it increases the level of leucine in muscles, hence stimulating muscle growth, reducing muscle breakdown, and improving immunity.
If you take it before the workout, it decreases muscle fatigue and increases growth hormones level. This supplement for muscle repair also plays an important role in fat loss as it burns more calories at rest and during exercise.
How to Use L-Glutamine Supplement
Take 5-10 grams of supplement in the morning along with breakfast. Take one dosage before and after the workout and before bedtime. However, you should read the instructions mentioned before you consume.
Pros
Increases the level of leucine
Burns fat
Builds up the immunity
Decreases muscle fatigue
The Bottom Line
Now you can improve your physical performance, build up and strengthen your muscles by using muscle supplements. There are different supplements available in the market. Muscle supplements tend to increase blood flow and boost the energy supply to the muscle to work out for a longer period. They help to repair and enhance the recovery process after a workout.
Depending upon the instructions for that supplement that builds muscle, consume it in the required amount at the mentioned time. So, what are you waiting for? Give your body the boost required by adding muscle builder supplements to your diet and let the strength speak through your body!
Frequently Asked Questions
How should I take supplements to build muscle fast?
It is recommended to read the instructions for the supplement you are taking. Some should be taken before workouts; others can be consumed after workouts or bedtime. Therefore do follow the instructions and take up to two months for best results.
Which is the best amino acid supplement for muscle growth, creatinine or protein?
Creatinine helps to build our workout capacity while protein increases muscle protein synthesis. Both have the same function of increasing muscle mass but in different ways. So it depends upon your requirements based on which you can decide which is better for you.
Will protein shake make my muscles bigger?
Yes, a protein shake increases muscle mass and enhances its performance and recovery. It also reduces muscle loss and promotes muscle gain.