Our Top 7 Picks For You
Room fresheners and scent sprays are commonly used to enhance the feel of a room, but incense sticks hold the top most place for creating the best vibe in the room. To feel even better, you need to choose the best incense sticks as per your taste in aromas and the spirit of the event.
Although it seems really simple to purchase and light an incense stick, there is more to the topic if you are a perfectionist. Choosing an incense stick depends on its type, preferred ignition process, lasting period, ingredient list, and the surface of the ignition gear. We have listed all the required information for you to choose the best incense sticks for your home. So, let's dig into it.
SHOYEIDO Plum Blossoms Sticks
These naturally low-smoke producing incense sticks are manufactured in Kyoto, Japan. Shoyeido incense is designed to give off a clean and fresh feel. These incense sticks are totally free of synthetic materials. Talking about the scent, Shoyeido Plum Blossom Incense Sticks possess a delightful combination of sweet and spicy touch of lush and springtime air with citrus notes of cinnamon and sandalwood. 
The low-smoke burn of these incense sticks is because these are manufactured without a bamboo core. Each box of Shoyeido Plum Blossom Incense Sticks contains 150 amazing incense sticks. Furthermore, these sticks are free from poor quality oils and artificial fragrances. One Shoyeido incense stick is 5.25 inches long and lasts for roughly 30 minutes.
Pros
Synthetic free.
Less smoke.
Delightful scent.
HEM Lavender Incense Sticks
HEM incense sticks are known for their soothing lavender fragrance. This versatile aroma is used the best for its calming and relaxing effects, making it suitable to light before bed time.
If you are suffering from insomnia or find it really hard to relax at night then according Alison Seponara, MS, LPC, Pennsylvania-based licensed professional counselor lavender will help the best. Not only that lavender is well-known essential oil for its sleeping properties but to relieve anxiety and stress too.
HEM's Indian incense sticks are manufactured from highly aromatic plants. The biotic materials such as fragrant oils are used to give off a strong scent. Other than that herbs and barks are used for the structure of these incense sticks as well. In its pack, you will get 6 tubes with 20 incense sticks in each making a total of 120 sticks in the pack. These 9 inches long sticks can keep the feel alive till 30 minutes.
Pros
Relaxing effect.
Budget-friendly.
Long Lasting.
Murphy's Naturals Mosquito Repellent Incense Sticks
If you are someone sick with all the mosquitos crash landing over you, then here's the incense sticks for you. Amazingly, you can get rid of mosquitoes with a chemical-free solution. Murphy's Naturals Mosquito Repellent Incense Sticks are made of highly-focused plant-based and natural ingredients. The ingredient list further includes the superior blend of essential oils such as rosemary, lemongrass, peppermint,  cedarwood, and citronella.
These powerful incense sticks rescue you from mosquitoes in a range of 12 feet. Moreover, each stick lasts for a solid 2.5 hours. For best results, burn a Murphy's Naturals Mosquito Repellent Incense Stick 10 minutes earlier than the beginning of the event and enjoy the mosquito free evening.
Pros
Free of DEET.
Effective for mosquito.
Blend of essential oils.
Cons
Collective usage is preferred.
The Better Scents Uncolored Incense Sticks
The Better Scents' unscented, uncolored incense sticks gives you the authority to choose a different fragrance everytime with a single pack of incense sticks. How? Well, you can add any essential oils to the unscented sticks creating your own scent. You can go for a single focused scent or combination of your favorite essential oils.
These Incense sticks are produced from bamboo coated with compressed sawdust. Each Better Scents' unscented, uncolored incense stick is 11 inches long. The Better Scents Uncolored Incense Sticks absorbs fragrance well and gives off a slow and low-smoke effect. Don't forget to dry the sticks properly before lighting them.
The brand suggests to put DPG (dipropylene glycol) to dilute the mixture, it will also extend the scent of the essential oils and the scent will last longer.
Pros
Your own scent.
Durable.
Colorless.
Cons
Making combinations might be difficult.
Utopia Scents Incense Sticks Variety Pack
Utopia Scents Incense Sticks are mainly used to eliminate or overcome the smell of burnt food in the kitchen or foul smell in the bathroom. As opposed to air fresheners that temporarily cover up the smell by filling the air with chemicals, incense sticks actually eliminate bad odor by purifying the air. 
These incense sticks are made by hand-dipping and rolling methods in India using natural bamboo. Later, premium quality essential oils are added to the incense sticks to give the aroma. Each stick is 10-inch  long and typically lasts for 45 minutes.  
This Utopia scent comes in a pack of 10 tubes carrying 10 different scents such as rose, lavender, lemongrass, strawberry, sandalwood, vanilla, frankincense, applewhite sage, and jasmine. Each tube contains 12 incense sticks making a total of 120 per pack.
Pros
10 scent options.
Long lasting.
Low smoke effect.
Cons
Not available in single scent.
TRUMIRI Frankincense Incense Sticks And Incense Stick Holder Bundle
Burning frankincense is supposed to awaken and strengthen the  brain pathways linked with treating anxiety and depression associated behavior. Scents like frankincense highly affect us physically, mentally, and spiritually to a great extent.
The HEM Frankincense Incense Sticks And Incense Stick Holder Bundle gives a full on package of relaxation to their customers. The set includes six tubes of 20 incense sticks each making a total of 120 sticks. Each stick is 9.75 inches long. HEM incense sticks are free from toxins and handmade in India from all natural wood, resin, and bamboo. 
Pros
Calming effect.
Budget friendly.
Long lasting.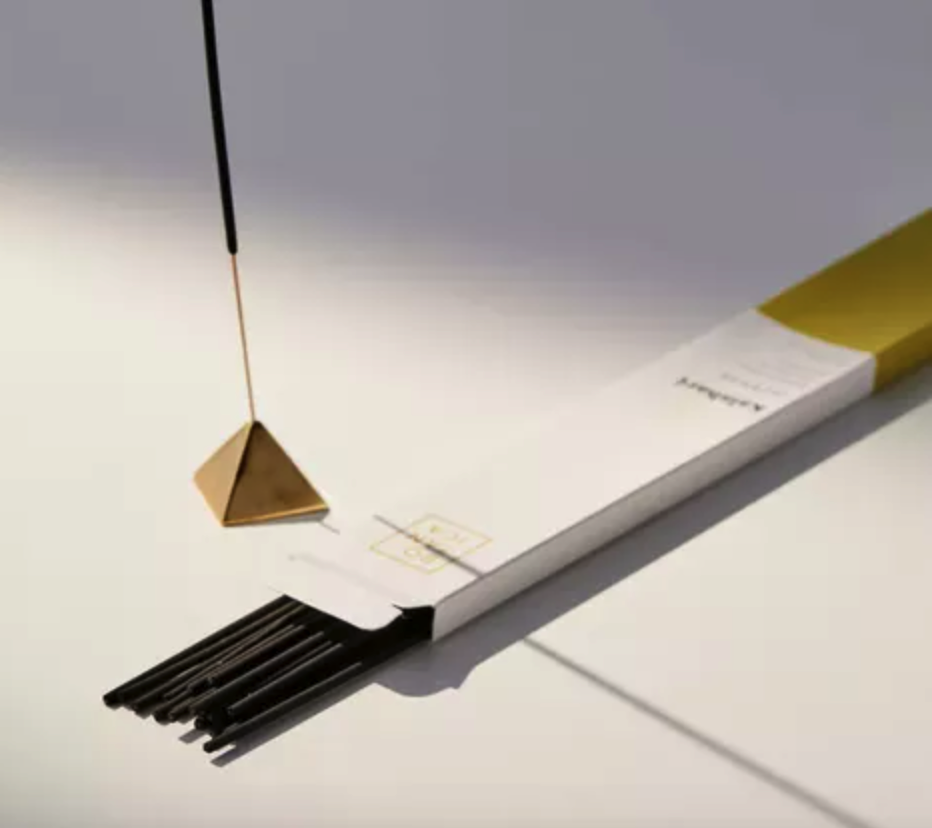 Botanica Incense
Botanica Incense are the American manufactured incense sticks. These incense sticks provide a fresh aroma. It also provides the modern and classic blend of incense stick fragrances. If you're a beginner to incense, sensitive toward heavy fragrance, or a fan of the lighter scents, this collection and blend is the one for you.
The brand has a  signature scent that includes Canopy which is a bright woodsy scent. Other significant scents are Kalahari which is a combination of sweet and zesty fruits, patchouli, and nag champa. Teahupo'o is a mixture of orchid, ylang-ylang, sea salt and yuzu is also available and Grove with its mesmerizing citrusy notes with hints of sea salt.
Botanica Incense is produced from organic wood and essential oils. Each pack contains 20 solid incense sticks. Each stick is 12-inches long and has a burn time of nearly 40 minutes. Do you love to donate? The brand will donate $1 to region-specific nonprofits native to the areas from where the ingredients of scents are taken.
Pros
Wide range of scents.
Long lasting.
America manufactured.
Cons
Only 20 sticks per purchase.
How To Choose The Right Incense Sticks For Your Home
Why is it so crucial to choose the "right" incense sticks? Because the right one will decide the whole mood of your home, your convenience, and for how long you would inhale these incense sticks. Here are some of the main factors to look for while choosing an incense stick.
Ingredient List
The ingredient list of the best incense sticks should read resin, dried plants, dried herbs, essential oils, and natural scents. Not only that the natural ingredients will provide you with better results and fragrance but health benefits as well.
Also, the natural scents will create a feel much closer to nature which is quite the main purpose of using an incense stick. On the other hand, artificial or synthetic ingredients can fade out the aroma and cause health issues too.
Smoke Effect
Consider how smoky you want your incense sticks. For example, if the room is broader with multiple open windows or an effective airflow system, a smokier incense stick will do fine for you.
However, a small or medium-size room with one or two windows should not get smokier, therefore less smoke-emitting sticks should be used. Furthermore, the part of the day or event can also determine the right choice of smoke factor. </0>
Different Type For Different Purposes
As incense sticks come in many forms, mainly, sticks, cones, or paper, you can choose different forms for different purposes. For example, if you are looking for soft morning freshness then a paper incense would be the best choice. 
The paper incense burns only for five minutes with least smoke and soft aroma. If you want an all-day lasting fragrance, then the long incense sticks are your only option. However, the cones are best for short events or relaxation of one or two hours.
Choose A Popular Or Personal Scent
The incense sticks are usually used for events or for attaining calmness, so, it is important that you choose a scent that gives you flashbacks of all the good memories related to the scent. Trying out new scents is great, but keep one of them as your signature scent.
This will create a unique vibe of your home and the guest will always remember a specific scent of your house. Moreover, while trying out various aromas, start with the most popular ones as they are popular for some reason.
How To Lit An Incense Stick Properly
Little mistakes can often lead to unpleasant incidents, and the proper method of lighting an incense stick will ensure maximum relaxation for you as well. Follow the step-by-step guide to light an incense stick.
Get a censer or incense stick holders. You can get a marble or wooden one as per your choice.
Hold the stick from the sealed end and burn the wooden end of the incense stick with the help of a lighter or match stick.
Hold the flame for 10 to 20 seconds till the stick catches fire.
Blow the flame on the incense stick.
Place the sealed end into the role of an incense stick holder.
Make sure the surface at which the incense holder will be resting is not highly vulnerable to catching fire.
Open the windows and relax.
Do's To Use Incense Sticks
Choose a flame-free burner to light incense sticks.
Place the incense stick holder onto a ceramic surface to avoid any mishaps.
Keep the clothing material and papers away from incense sticks.
If burning on wooden furniture make sure to add a layer of the ceramic sheet between bruner and furniture.
Keep the room well ventilated while burning an incense stick.
Don'ts To Use Incense Sticks
 Never discard or throw a burning stick with properly extinguishing as it can cause a fire.
Never place an incense holder where children or pets can approach as it can harm them.
Never place a holder too close to a window as the fast wind can fade away the effect of an incense stick.
Never open up the curtains near a lighted up incense stick.
Never leave a burning incense stick unattended for too long.
Conclusion
Incense sticks and their usage is not as simple as it looks to the eye. You need to choose the best incense sticks as per your needs and desires. Choosing process needs to analyze the type of incense, lasting period, your furniture type, room size, and event vibe.
Keep in mind the do's and don'ts of burning incense sticks will prevent any possible mishaps. Choose one of the best-suited incense sticks from the above-mentioned list and create the feel around your house now!
Frequently Asked Questions
Which incense sticks are non-toxic?
The incense sticks made of natural substances such as wood and resin are considered non-toxic. Incense sticks should not contain synthetics like dipropylene glycol (DPG) and parabens. Also, the incense sticks must be free from artificial wax and oungently strong scents as both the factors can add to toxicity. Homemade or natural wax on the label should be mentioned for safe use.
What are the best incense types to burn?
The best incense to burn are the raw incense containing dried leaves and herbs, and some other things like shells, minerals, etc.
What is the difference between incense sticks and cone sticks?
First, the incense sticks last longer than the incense cones. Second, the burning method slightly differs and the incense holders are different for both as well.
Is it fine to use incense sticks daily?
Using Incense sticks daily is fine if you are using them with all the above-given precautions. Also, if you choose the right ones for yourself then using them daily won't be a problem at all. However, limited usage hours per day are recommended.
What alternatives to use instead of incense sticks?
The incense paper, which lasts for a few minutes, and cones that last for a few hours are great alternatives. But, if you are looking for further options other than incense, room spray and room fresheners can be used as well.