If you ask a beginner yogi to make a list of common yoga equipment, nine times out of ten you will find that they won't put the yoga chair on that list. 
Yoga chairs are definitely one of the most frequently overlooked pieces of yoga equipment but they are also one of the most useful ones as well. A yoga chair can help you to practice your poses safely, while also providing you with additional support and a greater level of stability. As a result of this, you will oftentimes see yoga chairs being recommended for backbends and inversions.
So, without further ado, let's jump into our comprehensive list of the 13 best yoga chairs of 2023!
Benefits of Using Yoga Chairs for Seniors
For seniors looking to embrace the countless benefits of yoga, incorporating yoga chairs into your practice can be a game-changer. These specialized chairs provide a supportive and safe environment for seniors to engage in yoga, making it accessible and enjoyable. Let's explore how using yoga chairs can bring about a range of advantages tailored specifically for seniors:
Improved Posture. Seniors often face challenges with maintaining proper posture due to factors such as age-related changes in the spine and muscle weakness. Yoga chairs offer a solution by providing a comfortable and ergonomic seat that supports the spine, shoulders, and hips. This added support encourages seniors to sit and stand with better alignment, ultimately contributing to improved posture both on and off the chair.
Enhanced Stretches. As flexibility tends to decrease with age, seniors may find it challenging to achieve deep stretches in traditional yoga poses. Yoga chairs serve as excellent props for seniors to safely engage in stretches that might otherwise be difficult. By using the chair as a stabilizing base, seniors can experience enhanced stretches that target muscles and joints, promoting flexibility and mobility.
Increased Stability. Maintaining balance can become more challenging as we age, leading to a fear of falls and injuries. Yoga chairs offer seniors a stable and secure platform to perform a variety of poses. The chair's sturdy structure and grip provide the assurance needed to explore balance-enhancing postures without worrying about instability, thus helping seniors build confidence in their practice.
Achieving Challenging Poses. Yoga chairs can be particularly valuable for seniors looking to attempt poses that require strength and balance, such as inversions and standing balances. These poses can offer numerous benefits, including improved circulation, core strength, and mental clarity. With the support of a yoga chair, seniors can gradually work towards mastering these poses, reaping their rewards without compromising safety.
Deepening Stretches. Seniors often struggle with muscle tightness and joint stiffness, which can limit their range of motion. Yoga chairs offer a gentle way to deepen stretches, allowing seniors to access a greater range of motion comfortably. By using the chair to support and guide the body into stretches, seniors can experience increased flexibility and alleviate tension.
In summary, yoga chairs provide seniors with an inclusive and empowering approach to practicing yoga. With benefits ranging from improved posture to enhanced stretches and increased stability, these chairs offer a safe and effective means of engaging in yoga at any age. Seniors can explore new poses, refine their practice, and enjoy the physical and mental rewards that come with a consistent yoga routine. As seniors integrate yoga chairs into their practice, they can embrace the journey towards improved well-being, flexibility, and vitality.
Types of Yoga Chairs
Yoga chairs come in various types and designs to assist practitioners in their yoga practice. These chairs are designed to support various yoga poses, enhance alignment, and provide additional stability and comfort during practice. In the table below, we have collected all types of yoga chairs that can be used for practice.
Low-profile meditation benches are thoughtfully designed to help yoga enthusiasts maintain a comfortable and upright posture during meditation sessions. They offer vital support to the lower back and knees, enhancing accessibility during extended meditation practices.
| Yoga chair type | Description |
| --- | --- |
| Yoga headstand bench | This specialized chair is meticulously crafted to assist yoga practitioners in safely performing advanced poses like headstands and shoulder stands. It offers essential support for the head and shoulders, ensuring a stable and secure inversion experience. |
| Yoga backless chair | These chairs feature an open-back design, catering to a wide spectrum of yoga poses. Ideal for seated positions, backbends, and more, some models offer adjustability to accommodate varying body sizes and flexibility levels. |
| Yoga wheel chair | yoga wheel chairs are constructed with a circular frame reminiscent of a wheel, providing solid support for an array of poses, including backbends and chest openers. Their wheel-shaped design enhances mobility and versatility during practice. |
| Iyengar yoga chair | Iyengar yoga chairs feature a flat platform, a supportive backrest, and a robust build. These chairs are a staple in Iyengar yoga practice, aiding in precise alignment and enabling practitioners to perform a diverse range of asanas (yoga postures) with exacting precision. |
| Yoga prop chair | Versatile and accommodating, yoga prop chairs are suitable for a wide variety of yoga poses and stretches. They are often equipped with padded seats and backrests, delivering comfort and support across a range of practices. |
| Yoga inversion chair | Designed to bolster inverted poses such as handstands and forearm stands, inversion chairs are equipped with padded handles and a sturdy base to facilitate balance during challenging postures. |
| Portable yoga chair | Certain yoga chairs are designed with portability in mind. They are foldable and lightweight, making them convenient to transport to yoga classes or during travels. Their use of lightweight materials ensures ease of handling. |
| Wall-mounted yoga vhair | Wall-mounted chairs offer additional stability for poses that require wall support. Frequently employed for backbends and leg stretches, they are a valuable addition to a practitioner's yoga toolkit. |
| Balance ball chair | A balance ball chair, often referred to as a yoga ball chair or stability ball chair, is a type of chair designed to promote better posture, engage core muscles, and improve balance. It typically consists of an exercise or stability ball placed inside a frame with a backrest or support structure. These chairs are commonly used in office settings and for yoga practice to encourage active sitting and ergonomic support. |
The 13 Best Yoga Chairs Of 2023
If you're in search of a good yoga chair that provides support during your yoga sessions and aids in enhancing your flexibility and strength, explore our selection of top yoga chairs and choose the one that best meets your requirements!
Aozora Backless Yoga Chair Prop
The Aozora Backless Yoga Chair Prop is a yoga accessory designed to support and enhance yoga practice. Its backless design allows for a greater range of motion and increased versatility in various yoga poses. This chair promotes proper alignment, strength-building, balance, and control during yoga practice. It is designed to provide comfortable support and reduce strain on the hands and wrists. Whether used for deepening practice or for therapeutic purposes, it is a versatile addition to any yoga routine.
Pros
It has strong and durable tubular steel construction.
It features a double-hinged design for extra strength.
It has an attractive, colorful design.
Cons
It is not as comfortable as alternatively styled yoga chairs.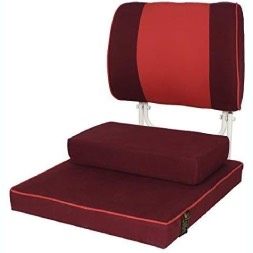 Buddha Bliss Yoga and Meditation Chair
It features an elevated seating position, ergonomic support, adjustable and foldable design, high-quality materials, and a versatile range of uses. This chair is known for its portability and stylish appearance, providing deep comfort and convenience for practitioners during their meditation and yoga sessions.
An additional feature is a pouch to hold meditation tools, adding to the chair's convenience
Pros
Foldable design and portability
While primarily designed for meditation, it can also serve as a support chair for yoga and relaxation exercises
The chair is adjustable and foldable, allowing for easy storage and transportation
It is constructed from durable and premium-quality materials, including a soft fabric cover
Elevated seat reduces the strain on knees
Cons
It primarily caters to those who prefer cross-legged or lotus postures during meditation. If you prefer different sitting positions, this chair may not be the best choice
The chair's specialized design and high-quality materials can make it relatively more expensive compared to standard meditation cushions or benches
Trideer Ball Chair
The Trideer Ball Chair is great for either yoga or for being used as an alternative office chair. One of the great things about it is that it comes in two distinct sizes, which means that it can comfortably accommodate a height range of 5'4" – 6'4".
Pros
It is great for improving posture.
It can relieve back pain and strengthen core muscles.
It is made of eco-friendly, hypo-allergenic materials.
It comes in two sizes: 65 cm and 75 cm.
Cons
The pump that is included isn't great.
It can be cumbersome for beginners.
Gaiam Classic Balance Ball Chair
Most of Gaiam's marketing is catered towards customers who want to replace their office chair with this Classic Balance Ball Chair; however, that doesn't mean that it isn't great for yoga as well. It is perhaps most notable for being one of the sturdiest yoga ball chairs on the market.
Pros
It comes with a high-quality air pump.
It is one of the best alternative desk chairs on the market.
It is one of the best alternative desk chairs on the market.
Cons
Its ideal height range is fairly limited; it is designed for users 5' to 5'11" tall.
THUNDESK Yoga Inversion Bench
The THUNDESK Yoga Inversion Bench can be used for a wide variety of yoga poses but as the name suggests it excels at helping yogis master inversion techniques. Its overall shape and size also make it ideal for backbends as well.
Pros
It is ideal for building core strength.
It has been carefully designed to accommodate a wide variety of backbends.
It makes inversion techniques easy.
It has an upper weight limit of 300 lbs.
Cons
The recommended hand placement can be awkward for beginners.
The cushion could be softer.
FITDO Yoga Headstand Bench
The FITDO Yoga Headstand Bench excels at being one of the best multipurpose yoga chairs on our list. One additional benefit of its unique design is that the T-pad can easily double as a sturdy yoga block.
Pros
It can function as a yoga chair or as a comfortable meditation bench.
It is fairly easy to assemble and disassemble.
It has non-slip handles.
It has a maximum weight capacity of 330lbs.
The T-pad can easily double as a sturdy yoga block
Cons
The padding is durable but it may be too firm for some users.
Synergee Yoga Headstand Bench Trainer
The all-natural construction of the Synergee Yoga Headstand Bench Trainer is for sure one of its main selling points but that doesn't mean that it isn't a useful yoga chair as well. The Synergee Yoga Headstand Bench Trainer is especially ideal for backbends, handstands, and a wide variety of support poses.
Pros
It is made from natural wood and vegan leather.
It features 2-inch padded cushions.
The T-pad can be removed and used as a yoga block.
It is great for relieving pressure and providing back support.
Cons
The overall durability can vary based on the user.
Friends Of Meditation Back Jack Meditation And Yoga Chair
The Friends Of Meditation Back Jack Meditation And Yoga Chair is the more affordable sibling of the (well-known) Friends of Meditation Extra Large Relaxing Meditation and Yoga Chair. However, this yoga chair is still remarkably useful and a great choice for yogis that are operating on a tighter budget.
Pros
It is great for a wide range of heights, even for people that are significantly taller than average.
It is ideal for extended sitting sessions.
It does a great job of relieving back pain.
Cons
The back brace is not very durable.
The carrying case is not very sturdy.
ZenHeart Floor Chair With Back Support
The ZenHeart Floor Chair With Back Support is definitely one of the oddest-looking products on this list. In fact, many customers have argued if it should be categorized as a "chair". Regardless, the ZenHeart Floor Chair does provide more than enough support for both meditation and yoga poses. Last but not least, this "chair" also can double as a yoga mat or a general-purpose exercise mat.
Pros
It can be used as a yoga chair, meditation chair, or yoga mat.
Its foldable design makes it lightweight, compact, and easy to store.
It comes in a wide range of colors.
It is sturdy and resistant to general wear and tear.
Cons
It might not be ideal for some of the more complex yoga poses.
Alexia Meditation Seat
As the name suggests, the Alexia Meditation Seat is more complex than your average meditation cushion (because it is a full-blown seat). This means that it can easily be used for more than just meditation.
Pros
Multipurpose; it can double as a lounge chair if need be.
It is one of the most comfortable meditation cushions on the market.
It is made from vegan leather.
Cons
It is bulkier and heavier than the average meditation cushion.
Storing it can be a hassle.
Belari Teak Meditation Bench
The Belari Teak Meditation Bench is a traditionally styled yoga chair that places a strong focus on function (more so than its appearance). As its name suggests, the Belari Teak Meditation Bench is ideal for all types of meditation but it is fairly short and lacks padding. This means that it isn't a great choice for people who want help to perform complex yoga poses.
Pros
It is made from 100% sustainably sourced solid teak hardwood
It has an ergonomic design that is perfect for stretches and kneeling meditation.
It is relatively easy to clean and maintain.
It has folding legs that make it convenient to store or transport.
It is ideal for heights up to 6'3".
Cons
It does not have any padding, so it isn't as comfortable as its major competitors.
Its size makes it awkward for some yoga poses.
Samadhaan Iyengar Backless Yoga Chair
The Samadhaan Iyengar Backless Yoga Chair is one of the most frequently recommended yoga chairs for beginners because it is easy to use and has a straightforward design. In addition to this, it is also relatively affordable compared to a lot of the competition – which is great because many manufacturers tend to overprice their yoga equipment.
Pros
It is one of the most affordable yoga chairs on the market.
It has an ergonomic design that makes it suitable for inversions and backbends.
It has a foldable design that makes it easy to store and transport.
It is made from high-grade tubular steel.
Cons
It does not have any padding.
Pilates Yoga Chair, Professional Iyengar Auxiliary Chair
The Pilates Yoga Chair, Professional Iyengar Auxiliary Chair has a fairly straightforward design which makes it remarkably easy to use. Without a doubt, one of the main benefits of this yoga chair is the fact that its lightweight, foldable design allows it to be easily stored or transported from place to place. However, that being said, it is still relatively durable and can easily manage frequent yoga sessions.
Pros
It is easy to use and has a straightforward design.
It has a foldable design that makes it easy to store and transport.
It has an anti-slip surface.
It is lightweight and easy to maneuver.
Cons
It does not have any padding.
It is slightly more expensive than similarly designed products.
KKAI Folding Yoga Chairs Backless Yoga Chair Prop
The KKAI Backless Yoga Chair Prop has a fairly simple design that makes it ideal for both beginners and experts alike. However, unlike similar yoga chairs that have this general design, the KKAI Backless Yoga Chair Prop incorporates canvas fabric padding for extra comfort.
Pros
It has a foldable design that makes it easy to store and transport.
It has a straightforward design that makes it easy to use.
It has canvas fabric padding for extra comfort.
Cons
It is more expensive than similarly designed yoga chairs.
Is chair yoga effective for adult?
Given our experience, сhair yoga can be highly effective for adults, particularly those with limited mobility, physical challenges, or other considerations that may make traditional yoga poses on the floor or mat difficult. Chair yoga offers numerous benefits and can be adapted to suit the needs and abilities of adult practitioners.
When elderly individuals come to us, we always assess their fitness level. If a person finds it challenging to perform basic asanas, we recommend chair yoga classes. Once their muscles become stronger and more flexible, they can attempt basic asanas without the support of a chair.
From our experience, we can affirm that many older individuals follow standard yoga programs. Only a small percentage of them encounter issues related to their musculoskeletal system, and in such cases, chair yoga is typically recommended.
We are constantly improving our yoga therapy skills, and yoga chairs are no exception. Below we have collected research conducted by other specialists. In these studies, you can learn about the effects of chair yoga therapy on functional fitness and daily living among older adults.
PubMed Central

Effect of Chair Yoga Therapy on Functional Fitness and Daily Life Activities among Older Female Adults with Knee Osteoarthritis in Taiwan: A Quasi-Experimental Study

International Journal of Science and Research (IJSR)

The Effectiveness of Chair Yoga in Older Adults: A Literature Review
How much do yoga chairs cost?
The cost of yoga chairs can vary significantly depending on the type, quality, brand, and additional features they offer. To provide a general overview of potential price ranges, we created a pivot table with approximate price categories:
| Price Range | Description |
| --- | --- |
| Below $50 | Budget-friendly yoga chairs that are basic and may lack some features. |
| $50 – $100 | Mid-range chairs with decent quality and some additional features. |
| $100 – $200 | High-quality yoga chairs with added comfort, durability, and adjustability. |
| $200 and above | Premium yoga chairs with advanced features, excellent materials, and brand reputation. |
Please keep in mind that these are general price ranges, and the actual prices can fluctuate depending on the chair model, brand, and the place of purchase. It is recommended to compare prices and features thoroughly before making a purchase to secure the best value for your budget.
Yoga Chairs Buying Guide: What to Consider Before Making a Purchase
Whether you're a beginner or an experienced yogi, choosing the right yoga chair is important for enhancing your practice. In this guide, we have selected the key factors to consider when buying.
Quality and Durability
When selecting a yoga chair, prioritize quality and durability. Look for chairs crafted from high-quality materials that are built to endure regular use. This ensures the chair can withstand the demands of your yoga practice and last over time. Additionally, pay attention to the chair's weight capacity to guarantee it can comfortably support your body weight during various poses, providing a safe and stable experience.
Adjustability
For a personalized yoga experience, consider yoga chairs with adjustable features. These chairs allow you to modify the chair's configuration to suit your body size and flexibility level. As your practice advances, the ability to adjust the chair provides adaptability, enabling you to fine-tune your support and alignment for different poses, making it an excellent choice for both beginners and experienced yogis.
Comfort
Comfort is a crucial aspect to consider in your yoga chair choice. Opt for chairs with padded seats and backrests, as they offer enhanced comfort during extended practice sessions. The padding ensures that you can maintain focus on your practice without discomfort or strain, making your yoga experience more enjoyable and effective.
Size and Portability
The size and weight of your yoga chair are vital factors to contemplate, especially if you have limited practice space or intend to transport the chair frequently. A chair's dimensions should align with the available space in your yoga area. If you need a chair that's easy to transport or store, consider a folding yoga chair, which offers convenience without compromising on functionality.
Additional Accessories
Some yoga chairs come with extra accessories like cushions or straps. These supplementary items can enhance your practice by providing added comfort or support. Before making a purchase, evaluate if these extras align with your specific yoga needs and if they can contribute to a more effective and enjoyable practice. Consider how these accessories fit into your practice routine and whether they provide added value to your chair choice.
Folding or a non-folding yoga chair
Whether to choose a folding yoga chair or a non-folding one depends on your specific needs and preferences. Both types have their advantages and disadvantages, and your decision should be based on what aligns with your practice and lifestyle.
Folding Yoga Chair
Pros

Folding yoga chairs offer high portability, making them a top choice for yogis who prefer practicing in various locations or need to transport their chairs to classes.
They are designed to be compact and easily stored in smaller spaces when not in use, saving valuable room space.
Perfect for frequent travelers who want to bring their yoga chair on the go, ensuring consistency in their practice.
The folding design allows for effortless setup and takedown, making it particularly convenient in bustling or communal settings.

Cons

Folding mechanisms may be susceptible to wear and tear over time, potentially affecting the chair's long-term durability.
Some folding chairs may not offer the same level of stability as non-folding alternatives, potentially impacting their support during advanced yoga poses.
Non-Folding Yoga Chair
Pros

Non-folding yoga chairs are typically constructed to be strong and durable, ensuring reliable and enduring support.
They often offer greater stability and sturdiness, making them well-suited for advanced yoga poses, including backbends.
Non-folding chairs can provide steady support without the potential risk of folding mechanisms weakening over time.

Cons

They occupy more space, which may not be practical for individuals with limited storage space or smaller practice areas.
Non-folding chairs are less convenient for those who require portability and the ability to transport them to different locations.
Frequently Asked Questions
How Do You Use A Yoga Chair?
Ideally, a yoga chair is not meant to be a constant fixture in your yoga routine. It should instead be used to supplement your yoga routine; eventually helping you to develop your skills and overall technique.
Yoga chairs can accommodate a wide range of poses but they are generally meant to alleviate any issue that you have with support, extension, or resistance. Some of the most demanding poses that yoga chairs are frequently used for are backbends; such as Urdhva Danurasana (Upward Face Staff Pose) and Viparita Dandasana (Inverted Staff Pose).
What Kind Of Chair Do You Need For Chair Yoga?
The straightforward answer to this question could simply be: "the one that is best suited for your needs". However, figuring out what that means usually isn't an easy task. Ideally, you want to have a yoga chair that is:
Lightweight; so that you can easily maneuver it based on the poses that you are trying to perform and also carry it from place to place without much difficulty.
Sturdy; so that it can accommodate your weight and also stand up to frequent use. The average yoga chair usually has an upper weight limit of at least 220 lbs (100 kg) and there are more than a few options on the market that far exceed that.
Unobtrusive; so that you can use it to perform a wide range of poses and not have it negatively affect your technique.
Yoga Ball vs Chair; Which One Is Better?
Generally speaking, most yogis will tell you that a yoga chair is superior to a yoga ball due to the level of stability that it provides. However, this does not take yoga ball chairs (also known as balance ball chairs) into account. This is an amalgamation of a yoga ball and a traditional yoga chair, which results in a final product that sacrifices a bit of stability to become far more flexible in terms of how it can be utilized.
Generally speaking, the choice between a traditional yoga chair and a yoga ball chair is going to be up to personal preference. That being said, we recommend that beginners start with a traditional yoga chair because of how straightforward they are to use.