Firefly Pose - Tittibhasana
Firefly Pose (Tittibhasana) is an advanced arm balance pose which requires a strong core and flexible hamstrings. It also engages the arms and shoulders. It requires both flexibility and strength. For the intermediate to advanced student who has learned other arm balances, this one is actually easier than it looks.
Step-by-Step Instructions
Step 1
Begin by positioning your feet slightly closer than shoulder-width apart and lower yourself into a squat until your buttocks are nearly parallel to the floor.
Step 2
Next, tuck your right shoulder behind your right leg, followed by your left shoulder behind your left leg, while keeping your legs bent.
Step 3
Lower your hands to the floor just outside your heels. Ensure that your hands are spaced shoulder-width apart, with your fingers spread wide. Keep your arms extended and straight.
Step 4
Gradually lower your buttocks further and lean back slightly, shifting the weight from your feet to your hands.
Step 5
Gradually lower your buttocks further and lean back slightly, shifting the weight from your feet to your hands.
Step 6
Raise your feet off the ground and extend your legs, with your toes pointing forward and upward, while simultaneously directing your seat in the opposite direction. Your legs should still be resting on your shoulders, and your arms should remain straight. Keep your gaze forward.
Step 7
To exit the pose, reverse the steps you took to enter it, returning to the starting position.
Benefits and Contraindications
Benefits
Firefly pose stretches the hamstring, groin, and back torso;
improves hip flexibility;
opens the chest;
helps you find new strength and perspective.
Contraindications
shoulder, elbow, wrist, or low back injury
pregnancy
recent surgegy
Photo poses in different angles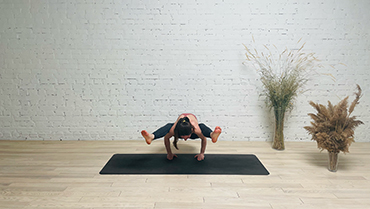 Modification, Props & Tips
Note that some yogis find stability in this pose with their hips low and their feet high, and others with their legs more parallel to the ground. Both are correct, and how you practice this pose will depend on your hip and hamstring flexibility, arm and core strength, and bone structure.
Pro tip: Try using a yoga block under your hands the first several times you try this pose. Using blocks adds length to your arms and lifts your center of gravity so you don't have to bend as deeply with your legs. Many yogis find it easier to balance this way.
Frequently Asked Questions
Variations
Bent Knee Low Firefly
Firefly On Blocks
Elephant's Trunk Pose
Top Preparatory Poses
---