Reverse Prayer Pose - Paschima Namaskarasana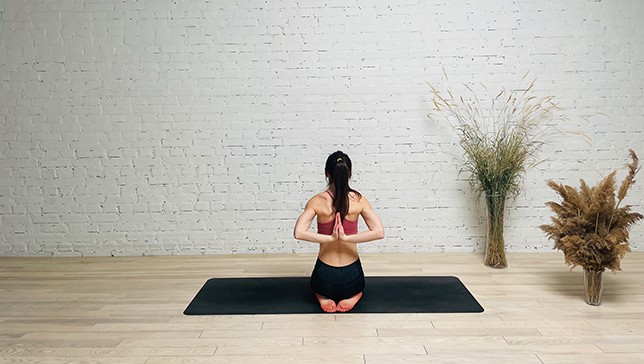 Reverse Prayer (Reverse Anjali Mudra or Paschima Namaskarasana) is a great way to open your shoulders. You will find Reverse Prayer as an arm variation added to many Standing Yoga Postures.
Reverse Prayer internally rotates your upper arms. That isn't a common movement for your upper arms, which is one of the reasons it can be so beneficial. It makes sure you go through your full range of motion. It's also a wonderful stretch for your forearms.
Reverse Prayer Pose Basics
Also Known As: Reverse Anjali Mudra, Paschima Namaskarasana, or Viparita Namaskarasana
Targets: Muscles throughout your shoulder and forearms
Step-by-Step Instructions
Step 1
Sit in any comfortable posture like Sukhasana. This pose can also be done in Tadasana or the standing pose.
Step 2
Relax the shoulders and let the hands hang loosely by the sides.
Step 3
Bring your hands behind your back, fingertips pointing toward the ground, and elbows bent. Take a deep breath in.
Step 4
As you exhale, rotate your hands so your fingers point toward the ceiling, and then try to bring your opposite fingertips to touch.
Step 5
To release the posture, separate the palms and bring down the hands to the side of the waist.
Step 6
You may rest a few minutes with palms placed on the thighs in the sitting position. If you feel any stiffness in the shoulders, you can gently rotate the shoulders in a circular motion forwards as well as backwards a few times. This can help to release any tension in the shoulder muscles.
Benefits and Contraindications
Benefits
Promotes respect for the self and others
Relieves stress and anxiety
Good for opening up the shoulder joints
Stretches the shoulder muscles and the muscles of the forearm up to the wrist
Opens the chest and improves breathing
Contraindications
Shoulder, neck or arm injury
Photo poses in different angles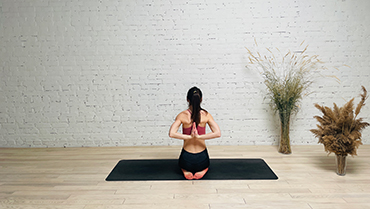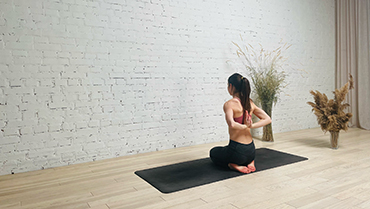 Modifications, Props and Tips
When you inhale, let yourself sink into and feel the stretch, assessing if you should go deeper.
If your body wants a deeper stretch, as you exhale, continue moving your hands closer together. This will move them up along the line of your spine.
If your palms can press fully against each other, concentrate on the thumb side of your hands and keeping them gently pressing.
Variations
Cow Face Pose
Standing Reverse Prayer Pose
Top Preparatory Poses
Backward Shoulders Rotations in Mountain or Easy Pose
Forward Shoulders Rotations in Mountain or Easy Pose
Shoulder Blades Warm Up
Top Follow Up Poses
---